You don't have to sing for your supper… this winter, we're bringing the tunes to you! Songs & Supper Club members subscribe for the month. In January 2021 this means that when you subscribe by Jan 4th, you'll have Jazzmyn's dinner at home and a private YouTube concert by a talented local musician every Thursday from January 7th to 28th!
YES, you can still support local business and musical talent while enjoying restaurant-quality dining this winter!
The Jazzmyn's Songs & Supper Club is a revival of the mid-19th century Song & Supper Room tradition, just in time for this latest Coronavirus lockdown. Here's how it works:
We prepare your delicious dinners for pickup Thursdays between 4-6pm at our downtown Owen Sound location (261 9th St E).
You pick up your oven-ready dinners AND get a link to view that evening's private concert by a surprise local musician on YouTube!
Pop the reheatable portions of your dinner into the oven, kick back and enjoy the show.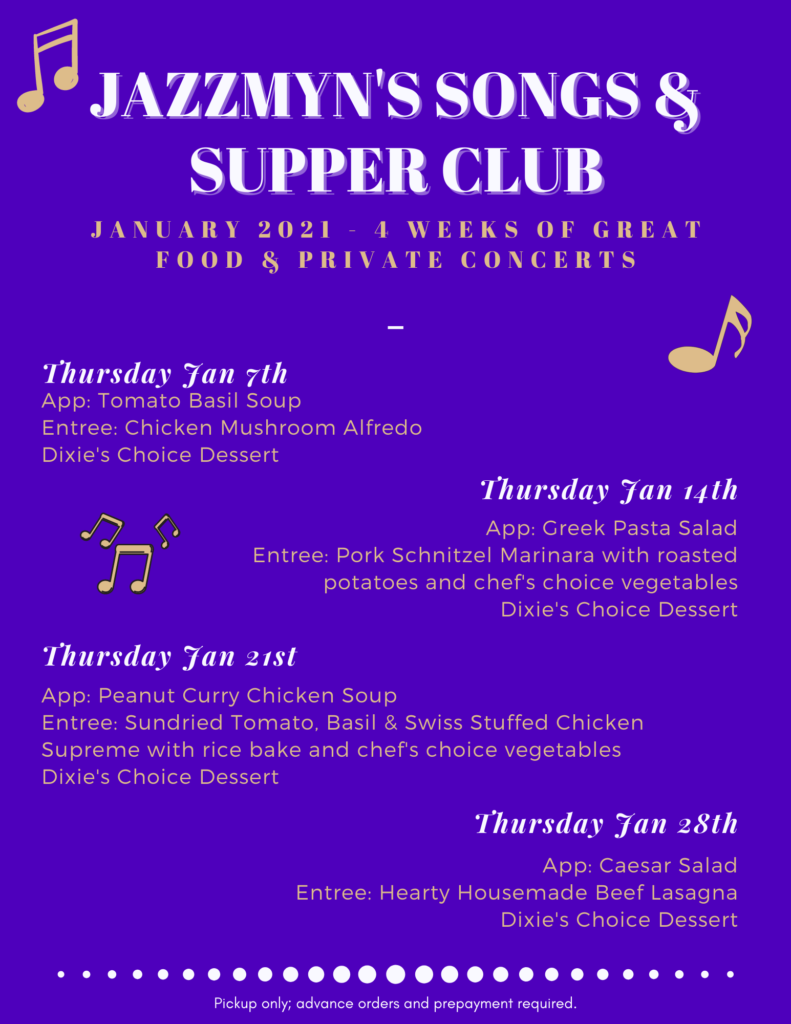 Jazzmyn's Songs & Supper Club membership is $30 per person per evening. E-transfer your payment for the month to pam@jazzmyns.com to secure your reservation. Pricing guide for 4 meals and 4 private concerts in January 2021, with HST included:
1 person = $120
2 people = $240
3 people = $360
4 people = $480
If you prefer to pay by credit card, you can email pam@jazzmyns.com to arrange a time to process the payment by phone. Please note that by order of the Province of Ontario, the restaurant is not open from December 26th and it may be difficult to reach Jazzmyn's staff by phone without arranging by email in advance. We apologize for any inconvenience and are doing our best to keep the great food and music going during this difficult time!
Please submit your membership order and payment for January 7th to 28th (that's 4x awesome meals and concerts!!) below BEFORE JANUARY 4th and please remember that payment is required to confirm your order.
If you do not see the order form below, please click here to access.
We regret that we are unable to accommodate substitutions. If food sensitivities or allergies are an issue for you, we look forward to being able to serve you again in-house as soon as possible!